There's a craze among modern Japanese women on leg aesthetics. Many Japanese women desire their legs to look long and slender. They aim for something called 美脚 (bikyaku) in Japanese, which refers to beautiful legs. Many women try to improve the condition of their legs in many ways, such as doing leg exercises, getting active, etc. A lot of my lady friends do yoga just for their legs, wear high heels to make their legs appear slender, and take the stairs instead of an elevator whenever possible. Most Japanese female models have long legs. Some of the top Japanese models with beautifully refined legs are Kiko Mizuhara, Mizuki Yamamoto, and Nanao Arai.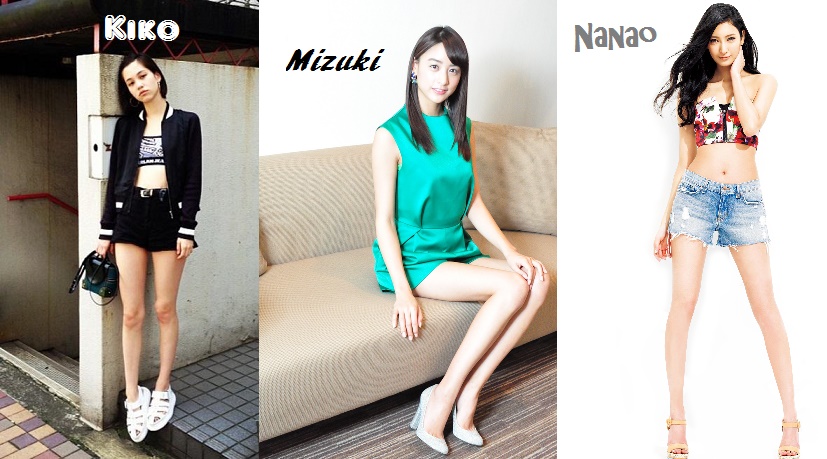 They're beautiful models, with beautiful legs! In other words, models with bikyaku!
To help people achieve the perfect legs they're aiming for, there is a variety of Japanese goods on the market made specificallu for leg care. They're not only for making legs slimmer, but also for adjusting the shape of legs, improving blood circulation, and more! Here are some products we have avaliable at J-Subculture just for legs: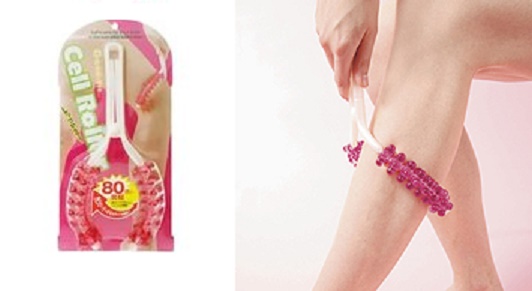 Here's a product called Cojit Cell Roller, for legs. To use this roller is quite simple. First, use the roller on your calves, moving from the ankles to the back knees, working your way upwards. Then, use it on the outer side of your calves, and the tops of your knees. Finally, bring the roller to your thighs in an upward motion. The number of sets you use is entirely up to you, but I'd recommend sets of ten for each part of the leg, three times each. It's best to use this after taking a bath or shower, applying lotion or body cream on your legs beforehand. Apply slight pressure to your legs while using the roller. Using the roller every day will help melt the cellulite in your legs, making them slimmer.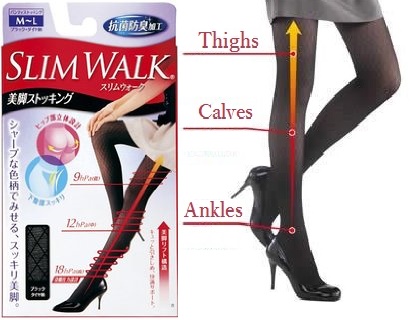 These are a pair of black diamond patterned stockings, sized medium to large. They're from a series of stockings, leggings, and socks called Slim Walk. Wearing Slim Walk will do wonders for your legs and feet. Because they apply constant pressure, the swelling that takes place in your legs and feet will decrease, leaving you feeling refreshed, always! Compared to other brands, Slim Walk feels better against your skin. Despite the pressure, it feels soft and gentle, thanks to the quality of its material. It's daily care you can sneak into your schedule without any effort!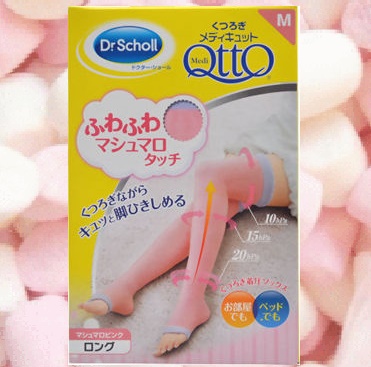 This is a product made by Dr. Scholl Japan called Medi QttO. Usually you use these kinds of socks and other leg wear while you're relaxing at home or during sleep. Through these products, you relieve the stress on the legs that occur during the day. With their comfy feel and feminine designs, they've come to be a very popular product out in the beauty department.
These kind of leg aesthetic products are good for health and relaxing reasons. The legs are a vital part of our body, so it's important to treat them with care. For better circulation, relieving stress and muscle strain, and for relaxing the legs, these products are top notch selections. Just remember that no matter what shape your legs are in, all leg types are beautiful. GIve the proper care your legs deserve with J-Subculture's selection of leg aesthetic products!