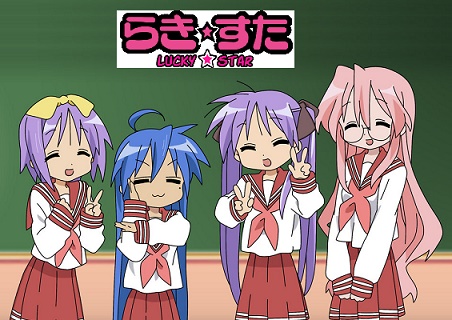 らきすた or Lucky Star is the name of a Japanese manga, anime, and video game series. The manga was written by Kagami Yoshimizu. It was published in Kadokawa Shoten's Comptiq magazine since 2003 as comic strip manga. It was adapted into a 24-episode anime produced by Kyoto Animation in 2007, and a video game series was made through 2005 to 2009. It's mainly about the lives of four teenage girls who attend a Japanese high school.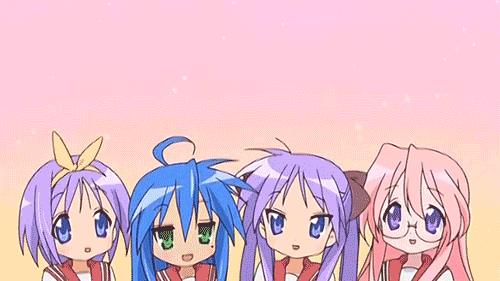 Starting from the far left, there's Tsukasa Hiiragi, Konata Izumi, Kagami Hiiragi, and Miyuki Takara. We'll introduce these kawaii girls to you:
She is one of the most popular characters of Lucky Star--Konata Izumi! She's considered to be the main character of the Lucky Star series. She has long, blue colored hair, with a trademark curl on the top of her head, as well as a moe under her green eyes. She's totally a hard core otaku, with a strong passion for manga and anime. She's very bright but loathes studying, which is why her grades aren't as well as her peers. She's also very athletic, despite having a lazy personality. She'd rather stay up and play video games all night rather than spending time on school clubs and her studies. She's 18 years old and her birthday is on May 28th.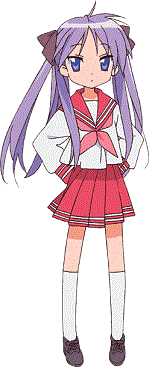 Next on the list we have the second most popular character of the series--Kagami Hiiragi! She has long purple hair that she keeps tied in twin tails with brown ribbons. She's the "tsundere" character of the Lucky Star group and often makes sharp remarks at Konata, to which Konata replies with endearing looks and comebacks. Kagami comes off as a strong character, but in fact she's hiding how lonely she can feel. She likes reading light novels and likes to play scrolling shooter games. You can often find her trying to go on a diet, only to eat Pocky sticks carelessly. Her birthday is on July 7th and she's 18 years old.

Now we'll introduce you to Kagami's sister, Tsukasa Hiiragi! She's a petite girl with short purple hair and a yellow ribbon hairband, in constrast to her sister. She isn't good at sports or school work, but has great cooking skills. She's the adorable one of the group, with an innocent, air-headed personality. She day-dreams often, loves texting her friends on her cell phone, and is fond of the Sgt. Frog series in spite of having a lack of interest in anime. Since Tsukasa and Kagami are twin sisters, they share the same birthday and age. She's in the same class as Miyuki and Konata, while her sister is in a separate class.

Last but not least, there's Miyuki Takara! She's considered to be the stereotypical "girl with glasses" member of the Lucky Star series, with a "moe" styled appearance and personality. She has long pink hair and always wears large glasses. She's very kind and considerate towards people, especially her friends. She is also very intelligent, possessing the ability to recite detailed definitions of anything when necessary. Despite her intelligence, Miyuki often spaces out and can be very clumsy. She comes from a wealthy family and is very well-mannered. She's 17 years old and her birthday is on October 25th.
Of course, Lucky Star has many other kawaii characters besides these four girls. Each character is very colorful, in both personality and looks. You're bound to fall in love with them all through the Lucky Star series!
Here at J-Subculture, we have a variety of Lucky Star goods, from figures to video games and lots more! Just scroll down to see the list of products we've put together and when you've found something you like, simply order away! We'll be waiting for you!