You'd be surprised to know the benefits of soy milk for your skin. The Japanese embrace the use of soy in their beauty products because it's natural and does wonders for the skin. Today we at J-Subculture would like to introduce you to a line of soy milk beauty products called Nameraka Honpo Soy Milk Isoflavone!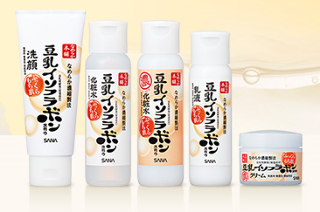 In these soy milk beauty products, soy isoflavones are used. Through these beauty products, your skin condition will immediately improve. The soy isoflavones help to add moisture to your skin, bringing out a glow and making sure that your skin stays in a supple state. They also help to improve the treatment of acne and wrinkles.
The two most popular products from this line are the 化粧水 keshousui, which is liquid face lotion, and moist cleansing wash. When you dispense the cleansing wash onto the palm of your hand and mix it with water, you'll create a rich lather that will gently cleanse your skin from oils and dirts, leaving it silky and smooth. Then you can apply the liquid face lotion. Despite its creamy look, it's actually watery and light, offering a refreshingly new way to moisturize your skin.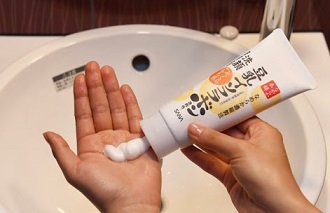 A special process is involved in making these products. There are no mineral oils, no perfumes, and no coloring matters included. It's natural, using domestically grown organic soy beans called "fukuyutaka" to make the soy milk. This process differs from the usual one, which means that the product ends up having twice the number of soy isoflavones than other brands in the market. It's highly concentrated.
There are other products of the Nameraka Honpo line. The pink colored series, the blue colored series, and the gold colored series. Each has different benefits for its users and they all contain soy isoflavones.
This line of products moisture the skin from the inside through its fermented soy bean formula, leaving you with bright, elastic skin. It's perfect for those who struggle with dry skin.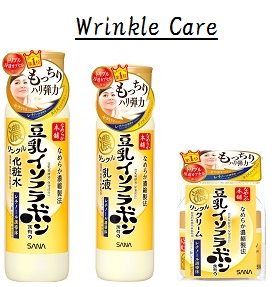 This line of products diminish the look of fine wrinkles on the skin caused by dryness. They provide your skin with a veil of moisture. It firms your skin through anti-wrinkle care.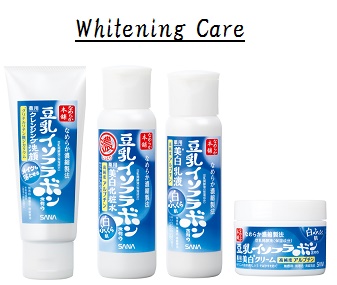 This line of products provide whitening effects for your skin, evening your skin tone. The old layers of skin cells that build up on your skin will be gently removed, leaving you with glowy, transparent skin.
At J-Subculture, we have various soy milk beauty products ready to be used by you. Follow the ancient beauty secrets of the Japanese through Nameraka Honpon. Be gentle with your skin, and your body will thank you.