Apica CO., Ltd has produced high quality notebooks they like to call, Apica Premium C.D. Notebooks. The C.D. stands for "classical design." Apica has reached all the marks that meet the satisfaction of passionate writers through these notebooks. They've taken heavy consideration into the very design of these notebooks, from the binding to the quality of the paper used. These notebooks certaintly live up to their "premium" titles.
There are so many reasons why these notebooks are so popular amongst writers. The covers are designed in a "crystal style," so it looks like glittering stardust was sprinkled on the covers. The ruffled borders on the covers are an original design by Apica. The word, "Premium" is on the spine cover of the notebook in gold. The high-grade papers are bound, and you can easily flatten your notebook after writing. They come in a variety of colors to choose from, and sizes large enough to support creative sparks of writings. Carrying around these notebooks will always put you in an elegant mood.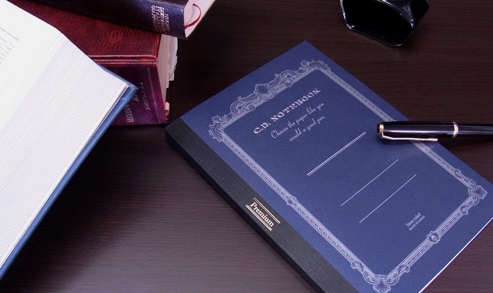 The feel of the papers in these notebooks are incredibly soft. They're also brighter than other papers so the ink you use stands out. You can write smoothly on these papers, as if your pen is gliding off the pages. It'll feel as if you're writing on silk. They work well with all sorts of pens. Even fountain pens work fabulously on these papers. You can count on being able to write on both sides of pages, since there isn't any bleeding through or feathering.
What awaits on the blank page before you? Turn over a new leaf through these classical notebooks today and bring out the passionate writer in you.