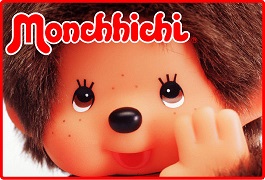 Introducing Monchhichi, lovable stuffed monkey-like fairy dolls sure to make anyone smile! Monchhichi were made and sold since 1974 by the famous Japanese doll company Sekiguchi Coporation. It has become so popular that in 1980, a Japanese TV show was broadcasted based on them. It was called, "Futago no Monchhichi," or "Monchhichi Twins." From there on out, the adorable dolls gained fans not only in Japan, but also around the world.
Monchhichi is also known as "Monchitchi," "Monchichi," "Chicaboo," "Mon Cicci," "Kiki," and more, depending on the country you're from. Monchhichi dolls originally come in sizes ranging from 10 cm, 20 cm, 24 cm, 45 cm, and 80 cm. The classic look is a smiling face, accompanied by sweet brown eyes looking upwards, a black button nose, rosy cheeks and freckles. The "boy" Monchhichi is called "Monchhichi-kun" and the "girl" is called Monchhichi-chan." They have soft brown fur and red/pink bibs. Monchhichi-chan has her hair tied in a red ribbon on the top of her head. Both Monchhichi-kun and Monchhichi-chan carry pacifiers. It certainly emphasizes their cuteness!
Now Monchhichi comes in a large variety of designs and comes with friends! To keep up with its growing popularity, many Monchhichi goods were produced around the world. For example,
these red and pink strawberry Monchhichi dolls! They're cute enough to eat!


Colorful Monchhichi key chain straps and pass cases sweet as cupcakes!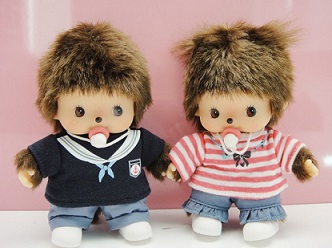 Bebichhichi, with eyes as round as cookies and pacifiers in their mouths, wearing baby clothes!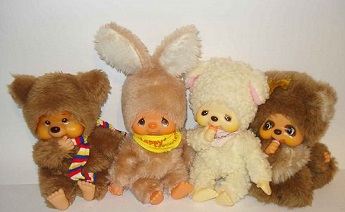 Monchhichi's classic animal fairy friends! Can you guess who is who?
This year, a special friend of Monchhichi was reintroduced into the doll line. It's Chimutan, the charming rabbit fairy! She's a kind friend who loves eating strawberries, dressing up, baking sweets, and drawing. Through this year's line, she was given a new look: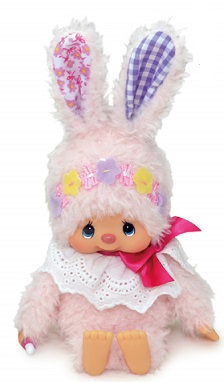 Isn't she super-duper adorable? She has different patterned ears, a flower lace crown, white lace, and pink plush fur!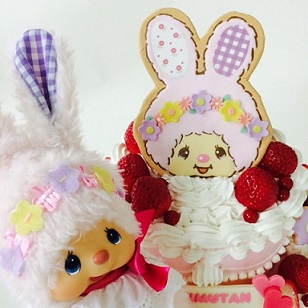 Her birthday was made official this year on March 3rd, "Hina Matsuri" and "Mimi no Hi" in Japan. She looks so happy!
Here at J-Subculture, we have many Monchhichi goods avaliable for you through sale and auction. If you're a fan of Monchhichi, or are looking for a new dolly friend, Monchhichi is perfect for you! Scroll down below for goods today!