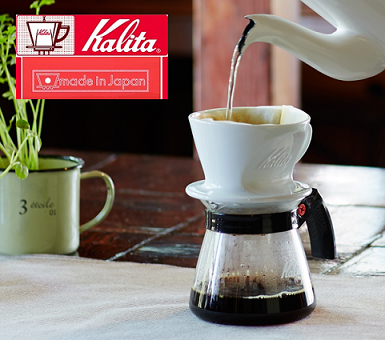 There is no better way to start the new day with a fresh cup of coffee...or two. While you can always hit the coffee shop nearby, you must acknowledge that there's something special about staying home and brewing up your own original cup. You can go for instant coffee, but if you truly want to enjoy the wholesome benefits and rich taste that coffee has to offer, then you must try drip coffee. It's also known as filter coffee, for its usage of filters. Japanese coffee lovers stay true to this kind of coffee, and you can find coffee drippers all over Japan. What is essential to fixing up a good cup of coffee? The answers are good coffee beans, good filters, and good coffee drippers.
Kalita Japan had first started out as a manufacturer of paper coffee filters back in 1985. Now they product high quality products that ensure you better ways to enjoy coffee at its finest. Going along with the topic of coffee drippers, we'd like to introduce you to the many coffee drippers that Kalita has to offer, in ceramic, copper, and plastic!
Kalita's coffee drippers were designed through its unique "Kalita process" to capture any unpleasant, off-taste bitterness that detracts from coffee and bring out its natural, rich flavors. To use these coffee drippers, all you must do is set its specific filter onto the dripper, places the ground coffee beans inside, and pour hot/boiled water onto them, evenly and gently. While it may take a little of your time to fix yourself a cup of drip coffee, you won't regret it when you've had your first cup. The flavorful, relaxing taste of drip coffee will make you come back wanting more every time!
We've included both Kalita's coffee drippers and paper filters below, so don't hesitate to look through the products we have avaliable at J-Subculture thoroughly!