Stapleless staplers?! What are those?! These AMAZING works of stationery are as just as their name implies; they're staplers that don't use staples! So wait, how are they staplers if they don't use staples? Let's find out.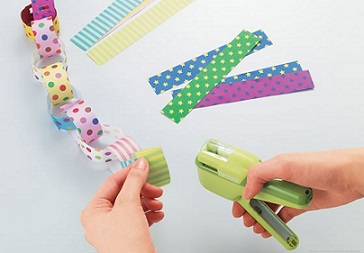 The acclaimed company of Japanese stationeries, Kokuyo, has produced a one of a kind item that will certainly rock your world. They look like staplers, have the same function of a stapler, and they are truly called "staplers," but their designs are extraordinary. These products are officially called, Kokuyo Harinacs Stapleless Staplers. "Harinacs" is a combination of the Japanese words 針 (hari), which means staples, and 無くす (nakusu), which means to lose. The creative people at Kokuyo have ditched regular staples and worked to prove to the world that anything is possible. These brilliant staplers can staple up to EIGHT pieces of paper together without the use of staples! Isn't that amazing? It's quite simple to use them as well. Here are the directions:
See how the stapler works to fold the papers together, as if it were a compact origami machine? They've taken traditional Japanese culture and applied it to modern stationery. While they define the word efficiency, they are safe to use for small children as well, so they're a big hit among children, students and parents. What is more, since they don't use staples, they are eco-friendly. Using such products set good examples on how we should be more innovative when coming up with products so that we lessen the burden on the earth. With so many merits that come with these staplers, we don't see why anyone wouldn't want such items. Along with their convenient sizes, they also come in a variety of colors.
Stationery this awesome shouldn't go to waste. Just scroll down for the stapleless staplers we have here at J-Subculture and get yours today!