Blendy Stick, a series of instant drinks you can make right at your home! Quick, easy, and flavorful, you'll be able to enjoy the feeling of having a cafe experience without having to step out of the door. There is a large variety of Blendy Sticks to choose from, from coffee au lait variations to tea, hot cocoa, and even Japanese matcha:
To brew up a cup of genuine au lait drinks, first take out a stick, open and pour its contents into your mug or cup. Each stick comes in a compact size that allows you to take it with you on the go to work and elsewhere. The contents inside are the perfect amount for one cup. After pouring the contents, pour boiled water into your mug or cup. It should be around 180ml to fully enjoy your drink. After you've poured the boiled water, stir well and then you're done! The rich aroma will fill your senses and the creamy, sweet taste of each drink will brighten your day. You can also have iced versions of these drinks! Just cut the amount of boiled water you use to half its size and add ice cubes to enjoy iced versions!
While coffee is the best fix for every morning, there are days when we want to ease off the coffee and go for something sweeter. There are Blendy Sticks just for those times! Cocoa Au Lait Blendy Sticks are very popular, among both adults and children! Why not try switching things up by adding cream and strawberries for a sweet treat?
The Matcha Au Lait series is also a huge hit. Each Blendy Stick offers a true experience of Japanese flavor that everyone craves from good matcha. If you're looking for matcha drinks outside of Japan, this product is highly recommended for you.
Tea is always a great option when you're not so into coffee. The Tea Au Lait Blendy Sticks put you in a relaxing mood and warms your heart. The mild taste of tea with the sweetness of cream is the perfect combination!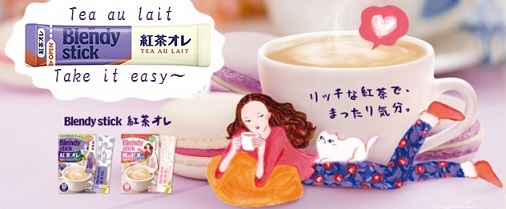 At J-Subculture, we offer a variety of Blendy Sticks you can purchase or bid on. If you're interested in these convenient, delicious Blendy Sticks, scroll below to find the product of your dreams!