As you walk the old, cobblestone streets, a cozy-looking cafe catches your eye. With a curved roof and a sign that says, "Rabbit House," your curiosity gets the best of you and you enter the cafe. Welcome to the Rabbit House! Here, you meet quirky-looking rabbits and adorable girls in cafe uniforms. So, what is your order? Is the order a rabbit?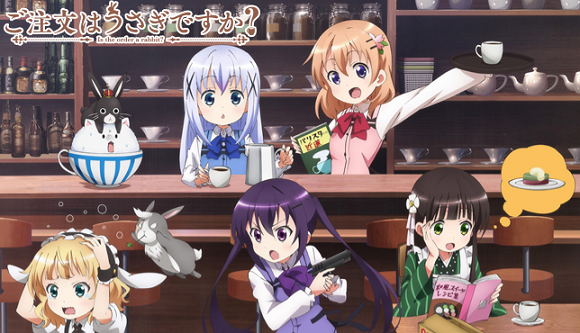 "Is The Order A Rabbit?"
is the title of an uber-kawaii manga and anime that is both popular in Japan and overseas. It is often abbreviated as, "gochiusa" (ごちうさ).
For those who may not know the story, Gochiusa is about the life of a girl named, "Cocoa." In exchange for a place to stay, Cocoa begins her new life working at the Rabbit House. In the town where Rabbit House exists, there are other cafes and rabbits to be found, giving the atmosphere a touch of cuteness wherever you venture. As Cocoa works at the Rabbit House, her circle of friends grow, and the story goes on from there.
Besides Cocoa, there are other characters to get to know, such as the quiet Chino, the strong Rize, the modest Chiya, and shy Syaro. Of course, there are the famous rabbits named "Tippy" from the Rabbit House, "Anko" from Ama Usa An, and "Wild Geese" from Fleur de Lapin. Through a variety of colorful personalities, sweet happenings, and surprises around every corner, Gochiusa is a series you'll never tire of. It'll absolutely melt your heart into a warm cup of cocoa!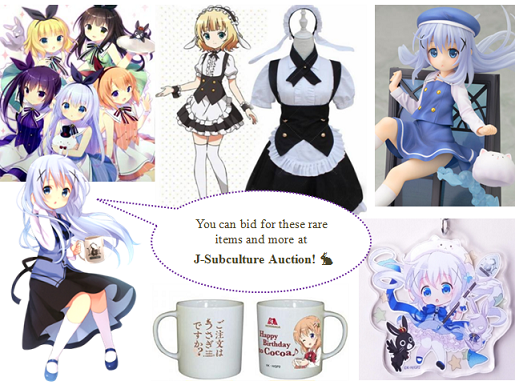 With its increasing popularity, more and more Gochiusa goods and items are up on our auction site. If you're a fan of Gochiusa, then you should definitely check out these rare items. Don't miss the chance to have your very own Gochiusa tapestry, mug cup, figurine, cosplay outfit, and so much more! Scroll below for a link to our auction site and bid away!
"We're ready to take your order!"