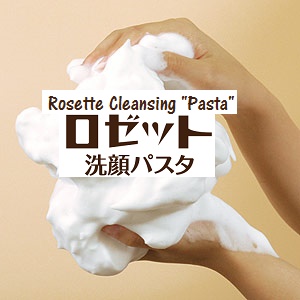 Have you tried the Rosette Cleansing "Pasta" series yet? These marvelous facial cleansers will make your skin dewy and luminous. Rosette is a Japanese company that specializes in facial washes. It was established officially in 1934 and has run in the market as a trusted brand for facial washes over the years. But what is Rosette Cleansing "Pasta," and why is it so good for you? In Japanese, Rosette includes the word "pasta" in their products because every facial cleanser is in a pasta-like state. To Rosette, the word pasta means, "powder that's been kneaded and made into a paste." In other words, Rosette Cleansing "Pasta" is Rosette Cleasning "Paste." Rosette sold the first facial cleansing cream in Japan in 1929 and created Rosette Cleansing "Pasta" in 1951. Nowadays, the Rosette Cleansing "Pasta" series offers a variety of cleansing pastes suitable for any skin type. We'll introduce a few of their products to you:
These are the original Rosette Cleanser Jar types of Rosette Cleansing "Pasta." These are their long, best selling products. What's their secret? Sulfur powder! What's so great about sulfur powder? The minerals of sulfur are grounded into fine powder and can often be found in Japanese hot springs. Hot springs are a hit in Japan because they not only relieve stress but also do wonders for your skin! There are many benefits you can gain through these products that use sulfur powder. For one thing, the refined sulfur helps to remove dead skin cells from the skin very gently, making your skin silky and smooth. For another thing, the sulfur used is medicated, which means that helps to prevent acne and chapped skin. Also, along with sulfur, olive oil and coconut oil is included. These ingredients work together to retain moisture in your skin. These jar types are particular packages that require a special way to open them:
There are also tube types of Rosette Cleansing "Pasta." They're exactly the same as the jar types, except they're packed into tubes, which make them much easier to use. There are two types of tube versions: the red tube for people with oily skin types, and the blue tube for people with dry skin types. The packages include designs of the original mascot characters of Rosette. They're two women in a hot spring. It gives the tubes a sort of "retro" feel to them.
Lastly, we have their latest cleansing foams that come in clay pastes! The clay sticks to the skin and thoroughly absorbs the deep pockets of dirt that have collected in your skin's pores over time. The green one is called, "Sea Clay Smooth." It contains sea clay powder that's rich in minerals. It removes excess dirt, dead skin cells, and sebum from the skin, smoothening it and improving your natural complextion. The pink one is called, "White Clay Lift." It contains fine white clay powder that softly exfoliates the skin, leaving it fresh and firm, while also bringing out your skin's natural glow. The yellow one is called, "Ghassoul Bright." It contains ghassoul clay powder and argan oil mixed together to clean your skin. After washing your face with this clay paste, your skin is bright and free of dead skin cells. You can choose what you think is best for your skin, though we recommend them all! It's best to let these clay pastes sit on your face for a while before washing it off. Instead of using it daily, using it as a weekly treat for your skin will give you the best results.
(Please keep in mind that Rosette Cleansing "Pasta" is good for your skin but not for eating). If you haven't tried Rosette products yet, why don't you try them today? It's never too late to start a new cleansing routine for your skin. Embark on a journey to healthier, cleaner skin with Rosette Cleansing "Pasta," avaliable here at J-Subculture!