Introducing Biore's Marshmallow Whip Facial Wash! Marshmallow マシュマロ is for how plush it is, and whip ホイップ is short for whipped cream, to express how gentle and soft it is. This facial wash is practically everyone's dreams. There isn't a facial wash out there as fluffy as this one!
This facial wash comes in a pump bottle you can use to instantly creare fine bubbles that will cleanse your pores effectively. It applies skin purifying technology that compliments and improves the condition of your skin. Unlike most facial cleansers out there, it doesn't strip the skin of its natural moisture but rather softens the skin through its moisture rich hydration formula.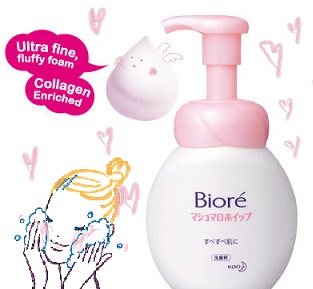 There are three main types of this facial wash: green for acne care, pink for smooth skin, and yellow for rich moisture. All facial washes produce a cushion-like foam that feels super soft on the skin. The lather is so high in density that it sticks to the skin, helping you clear away dirt and oil effectively through circular motions.

Especially for people who are busy in the morning, this facial wash is a quick time saver. Wash your hands, wet your face, and pump to your heart's delight! Also, this facial wash comes with refillable liquid soap, so you can use it as many times as you like while lessening the burden on our planet. If you're ready to experience marshmallowy goodness on your face, try Biore's Marshmallow Whip today!