Midori MD Notebooks are for lovers of the best notebooks the world has to offer, and these notebooks happen to be the best. The "MD" stands for "minimum design." These notebooks are simple, aesthetic, and are practically made to suit true writers out there. Why use anything lower than the high quality you deserve?

With its soft pages, you can open these notebooks with ease, keeping them in place so you can continue to write smoothly. The balance of white brings out a softness in the material.
To quote Midori, "When you write something down, you want to record and maintain the feeling of the moment. That is why our notebooks are simplicity itself." These notebooks were made purely for recording every word you have to communicate to paper. They're naturally honing the idea of minimalism so that your writing experience is cathartic and stress-free.
While these notebooks provide a perfect home to store your writings, they are also wonderful for drawing and sketching. Say you'd like to start a new art journal, or want to record some events you've experienced on a trip visually. They are light, functional notebooks that will cater to your every need.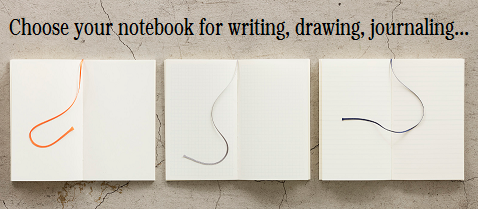 Midori MD Notebooks are avaliable in these three page formats: grid, ruled lines, and blank. You are free to choose the style of notebook you'd like to use. These notebooks are avaliable in many sizes: A6, A5, A4, and B6. The two kinds of paper avaliable are MD Cream (ideally suited for fountain pen writing, with a soft cream hue) and MD Cotton (gentle yet durable paper that includes the use of cotton pulp).
Us writers express ourselves daily through language and pictures. Midori MD Notebooks are exceptional notebooks for self expression. Scroll down below for the notebooks J-Subculture has to offer, and treat yourself to the luxury of a MD Notebook.