This pen is revolutionary. This is the pen of your dreams. Here at J-Subculture, we have the pen of the future: Pilot Frixion Ball Slim Pens!
The most slender of all the pens from the Pilot Frixion series, Frixion Slim Ball Pens boast of a tip the size of 0.38 mm! Their sleek, slim design allows you to keep as many as you'd like freely in your bags. You can have all the colors of the rainbow without breaking your pencil case. Isn't that fantastic? What is more, since its tip is so small, you can write in tiny letters between long strands of sentences, such as in textbooks and contracts. Also, since it's a part of the Frixion series, you can erase what you've written without leaving a trace. No more worrying about mistakes! These pens are also eco-friendly. They have re-fills avaliable for their ink, so once you've run out, you can replace it without going through the hassle of buying a new one. Good for the planet and good for your wallet right? These are the colors avaliable: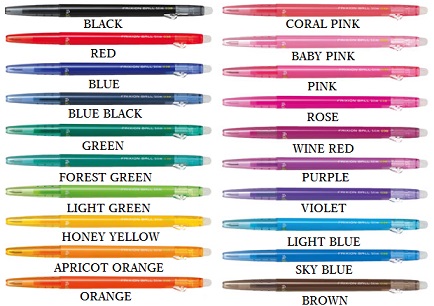 We have many of these pens here at J-Subculture in stock and up for auction. Ready to draw and write with a pen you've never had before? Release yourself from the clutches of ordinary, boring pens and create freely today!