One of the hottest Japanese beauty products right now is the "Perfect" series by Shiseido Senka. In particular, "Perfect Whip" is one of the most popular of them all. This is a must for anyone who actually cares about their skin and wants an effective and affordable skin care product.
Perfect Whip is a type of facial foam you can use easily through squeezing it out of its light blue tube. It only requires a pea-sized amount of create lots of rich lather, and usually comes in 120 grams, so you can use the product for a long time. The foam it makes is dense and creamy compared to most products out there. To the Japanese, washing the skin through bubbles is how you deeply cleanse your face. Your goal is to pick up all the dirt and oils that have built up in your pores and refresh the skin while washing away each impurity. Through Perfect Whip, this is an achievable goal.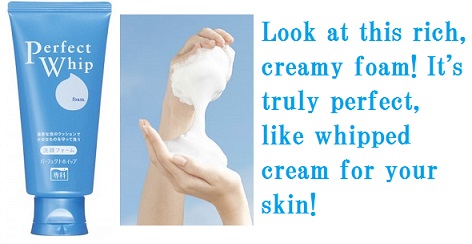 What's the science behind the product? Perfect Whip conjures up miniscule bubbles that gently penetrates your skin to dig deep and cleanse thoroughly. It's often said along with the product that 「白まゆがいちばん」(shiromayu ga ichiban), which means that "white cocoons are the best." That's right, you've read this correctly--white cocoons. This product contains ingredients from silk cocoons which work to maintain your natural skin moisture, since mose cleansing products out there strip the skin from its moisture as they clean. Perfect Whip works great with any skin type, from dry to oily to combination skin types!
Besides "Perfect Whip," there are other products from the "Perfect" series, such as "Perfect Watery Oil," "Perfect Liquid," "Perfect Gel," and "Perfect Oil." You can use Perfect Watery Oil with wet skin to remove tough make up that tends to stick to skin. You can use Perfect Liquid to gently remove make up such as blush and eye shadow. You can use Perfect Gel along with Perfect Whip for a exceptionally effective cleanse. You can use Perfect Oil to break up the make up on your skin to soften and cleanse it.
Whatever your method of cleaning for your cleansing routine is, Shiseido's Perfect series is sure to be a must-have staple. We have many of their products avaliable for sale and for auction here at J-Subculture! Change the way you clean and be gentle to your skin through Shiseido Perfect!